Liste des 10 épisodes les mieux notés de la série Legend of the Seeker parmis les 43 répertoriés sur notre site, ordre basé sur la moyenne des notes IMDB et TMDB
R
ichard and Kahlan return to a helpful village, only to find everyone dead. Objects a captured enemy calls Whisperers killed the people - and Darken Rahl has more of them in a keep. Richard decides to enter by impersonating the prisoner.
Voir la page
Voir en ligne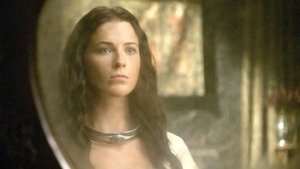 K
ing Gregor of Caddock requests the Seeker's help. Earlier, Gregor asked the witch Shota "power to defend the kingdom forever" to drive away the D'harans, but the power had a horrible downside that may stay forever as well.
Voir la page
Voir en ligne
R
ichard and Zedd get an idea of how Richard can control the power of Orden. But Darken Rahl has captured Jennsen and cursed her village. And she threw the Box of Orden to the bottom of a lake before being captured.
Voir la page
Voir en ligne
R
ichard's attempts to rescue his friends from a sadistic wizard's deadly experiments send him into his first explosive face-to-face confrontation with the evil Darken Rahl.
Voir la page
Voir en ligne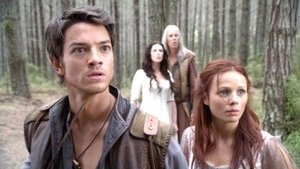 D
arken Rahl gives Denna one last chance to bring him the final piece of the Box of Orden. She, fatefully, runs into Richard, Kahlan and Zeddicus. Then things get complicated and secrets long buried see daylight.
Voir la page
Voir en ligne
Z
edd attempts to reverse the insidious dark magic Darken Rahl used to make Cara betray her friends, but the wizard's powerful spell instead drastically alters the lives of Richard, Kahlan and everyone else.
Voir la page
Voir en ligne
D
arken Rahl is planning to find the final Box of Orden, which is being held by Queen Milena or Tamarang. Zedd posses as a puppeteer for the Queens daughter, Violet's birthday party. Meanwhile Richard and Kahlan try to find a way to stop Darken Rahl's men from reaching Tamarang.
Voir la page
Voir en ligne
I
n the second season finale, Richard's last desperate attempt to save the world of the living brings him face-to-face with his greatest enemy, while Kahlan may be forced to kill the man she loves.
Voir la page
Voir en ligne
G
eneral Demmin Nass brings Darken's new orders: the seeker must not be killed but captured and enslaved. Richard and Kahlen are totally distracted when she stops his attempt to kiss her passionately but refuses to explain why. Zed can barely escape when D'Haraan torturer-enchanter Denna attacks and imprisons Richard in a dungeon, to be subdued by protracted torture designed to make pleasing his dominatrix his sole purpose. Kahlen resigns her post and agrees to swap places with order sister Lara, but discovers she abused her powers to enslave the village she had to protect and reconsiders. When Kahlen arrives, Richard is despairing whether he can keep resisting and pretending to be nearly tame.
Voir la page
Voir en ligne
R
ahl sends all his Mord'sith to kill Richard and they strike just as he assembles the Box of Orden. A magic explosion swallows Richard, Zedd is burned to a crisp and Kahlan taken prisoner for Rahl, who wants to make her his queen.
Voir la page
Voir en ligne
Richard Cypher est un jeune guide forestier rattrapé par son destin, qui va devoir quitter les terres de l'ouest pour devenir un héros attendu par le peuple depuis un siècle. La quête du jeune homme sera de restaurer à nouveau la paix dans le monde du milieu, et mettre fin à la domination suprême du tyran Darken Rahl. Cet élu malgré lui bénéficiera du soutien improbable d'un des plus grands sorciers ayant existé à ce jour, et d'une femme aux étranges pouvoirs.
Articles similaires